How to Optimize Online Collaboration for Pharma Teams
08 July, 2022
Collaboration has always been the norm in pharmaceutical and life sciences product development. Within their respective silos, team members in R&D labs, clinical research organizations (CROs), and testing companies collaborate with each other and with third-party experts. These organizations then present their findings at specific junctures to Pharma manufacturers, investors, and regulatory organizations.
The industry has historically taken significant measures to ensure the confidentiality of information. A leak of data or findings can not only lead to a competitive loss but can also lead to significant legal exposure: All pharmaceutical companies must adhere to Federal Drug Administration (FDA) and Health Insurance Portability and Accountability Act (HIPAA) regulatory guidelines that protect patient privacy, including patients enlisted into clinical trials.
However, the pandemic shifted how Pharma teams collaborate. Members were required to work remotely, which meant that the confidentiality of data and work files now depended on the security features of each team member's laptop or home office computer. And on the clinical research side, the team needed to shift to remote monitoring of test subjects.
By and large, the Pharma industry has adapted remarkably well. While Pharma collaborations have historically included parties in remote locations, the exigencies of the pandemic required more. Medical device manufacturers and CROs worked together to develop secure remote monitoring protocols that comply with FDA and HIPAA guidelines. Some organizations moved to the Contract Development and Manufacturing (CDMO) model, in which product development and manufacturing are accomplished under one roof. And virtually all Pharma organizations shifted to collaborations in the cloud, utilizing online databases and software with built-in security protocols.
The result is growth: the global pharmaceuticals market is expected to grow from $1454.66 billion in 2021 to $1587.05 billion, a compound annual growth rate (CAGR) of 9.1%. Within that growth is the Active Product Ingredient (API) market, which has a current global value of $178 billion and is forecast to grow at a compound annual growth rate of 6.7 percent over the next five years.
Cloud-based Collaboration still Faces Security Threats.
While the good news is the industry's health, the cautionary tale is that current collaboration security measures may prove to be inadequate. The nemesis: hackers.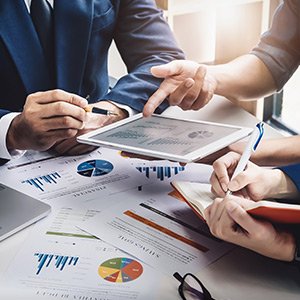 Hackers can infect documents with malware code and spread their virus when team members collaborate or archive documents into online folders or databases. In many cases, the victim company is forced to pay the cyber criminals within a set amount of time or risk losing file access forever. Compounding the potential cost is legal exposure: the FDA now holds manufacturers accountable for security-related problems, including electronic records submitted under the FDA's 21 CFR Part 11 regulations.
Today's hackers are increasingly sophisticated. Data shows that hackers have developed their own Artificial Intelligence (AI) coding to search documents for weak points. Their primary target is work-in-progress files and data and images. Their access to files can occur at multiple points a document lifecycle:
Shared files from within Microsoft applications like Word and Excel
Attachments on collaboration platforms like Slack, Asana, and Trello
Attachments in email chains on company internet and intranet systems
Documents and media and data files in transit to and from company archives
Active directories of testing software like Cobalt Strike, Metasploit, or Mimikatz
In most cases, hackers insert their malware code at the endpoints of extensions of file names:
Microsoft files ending with .pptx (PowerPoint), .doc and .docx (Word), and .xlsx, .xlsm, .xlsb, .xltx, and older extensions like s.xls, .xlt, and .xml (Excel)
Media flies ending with .mp4, .zip, .rar, and tar
Database files ending with .sql, .accdb, .mbd, and .obd
Imaging files ending with. ssd, .raw, .svg, and .psd
Everyone in Pharma development recognizes these file endpoints because they see them every day. Product development requires near-constant sharing of work-in-progress documents - workflow charts, analytics, forecasts, projections, and reports. Team members near and remote contribute new copy and data or revise previous iterations. This sharing of work-in-progress documents is the lifeblood of development.
Pharma Product Development Needs Additional Security Measures
Since Pharma product development requires near-constant sharing of work-in-progress documents among team members near and remote, the collaborative process generates security risks.
In some cases, the content of a document may be low risk, like sharing a workflow chart over Slack. However, even a low-risk document can provide an entry point for a hacker.
What's needed is a Pharma product development security strategy that meets the times: Protect collaborative work-in-progress documents, as well as archived mission-critical documents.
ShareVault Meets Pharma's Collaboration Security Needs
ShareVault is an online platform that provides an ultra-secure environment for archiving critical documents. Team members access ShareVault using two-factor authentication. Once they are in the secure environment, they can access databases and document archives and generate and share new documents exactly as they would normally do, using Word, Excel, and other software.
The ShareVault difference is that these activities are now fully secure. ShareVault's online environment, called a Virtual Deal Room (VDR), provides a secure workplace for any authorized team member, from any location or authorized device, at any time of the day. The team leader can set time and content limits on access and can de-authorize access at any time. And when the time is right, the team can invite regulators, investors, and partners to view reports and presentations in an ultra-secure environment.
ShareVault Protects Archived Documents
ShareVault makes it easy to store and access archived documents. Its built-in software features drag-and-drop tools to create folders and folder hierarchies, enhanced with cross-referencing tools like inter-document hyperlinking and a powerful full-text search engine. With its robust menu of organizational tools, ShareVault makes the process of building an archive a fast and painless process for the team.
ShareVault Protects Work-in-progress Documents
ShareVault security protections extend to work-in-progress documents. ShareVault's built-in proprietary "Dynamic Native File Protection" (DNFP) software provides protection for documents in a wide range of popular applications including Word, Excel, PowerPoint, Photoshop, Illustrator, AutoCAD, SolidWorks, and Cadence.
Here's how DNFP works:
Encrypt the device - desktop, laptop, phone, and/or tablet – with a user-ID code.
Define the user's sharing – read-only or "dynamic", meaning the recipient can alter the document.
Collaborate safely – Team collaborators work normally in the native file environment of Word, Excel, or any other application.
ShareVault's CollabLoop Helps Manage the Collaboration Process
ShareVault provides bank-grade security for archived and work-in-progress documents, and built-in software to assist in storage and organization — essential tools for pharma product development programs.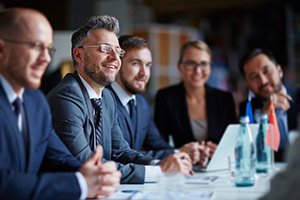 ShaveVault's CollabLoop takes that assistance a step further: built-in software that is specifically designed for pharma's collaborative document review process.
Here's how CollabLoop works:
Set up the project — Open CollabLoop from within the secure ShareVault platform. CollabLoop presents a worksheet for each project. Name the project, create folders, and set up a timeline.
Upload a document for review.
Build the CollabLoop group — Invite teammates by creating links from within CollabLoop (no need to send invites from within applications or by email or via Slack or Asana)
Collaborate!
Team members can use CollabLoop's "Q&A" feature to post comments. And once a document has been passed through the review process, the team leader changes the document's tag from "In Review" to "Completed Review." When final approval is achieved, the Administrator retags it as "Approved" on the CollabLoop worksheet.
CollabLoop automatically dates revisions, which are saved in a central document repository. The team leader uses this document's history to measure progress, assign revisions, or mark as approved.
The CollabLoop document repository is also great for your compliance officer as it provides an audit report, suitable for regulatory review of the development process. ShareVault also provides an eCTD viewer to facilitate regulatory submissions.
ShareVault Is a Proven Solution.
ShareVault is the leading online platform with a ten+ year history in Pharma and the Life Sciences. When regulatory submissions are required, ShareVault is the preferred platform for sharing Electronic Trial Master Files (eTMF), Investigational New Drug (IND) applications, New Drug Applications (NDA), Abbreviated New Drug Applications (ANDA), Biologics License Applications (BLA), Drug Master Files (DMF), Biologics Master Files (BMF), Emergency Use Authorizations (EUA), and other regulatory submissions. With its many pharma-friendly features, ShareVault has been selected by the Biotechnology Innovation Organization (BIO) and 40 other industry trade associations for their Business Solutions Program.
ShareVault: Focus on Product Development, not the Software!
With ShareVault, every aspect of your team's product development process can proceed efficiently and smoothly, including protections for work-in-progress documents in the revision and review process. As an online cloud-based platform, users can access ShareVault anytime, from anywhere, any hour of the day, from any device, without any involvement of your IT team. Make the smart move to ShareVault!
LEARN MORE
Dynamic Native File Protection: https://www.sharevault.com/dynamic-native-file-protection
CollabLoop: https://sharevault.com/blog/secure-file-sharing/what-is-document-redlining-and-why-is-it-so-important
Secure Document Sharing: https://www.sharevault.com/blog/secure-business-file-sharing/todays-world-requires-secure-document-sharing
Life Sciences: https://www.sharevault.com/solutions/life-sciences