WHAT YOU NEED TO KNOW ABOUT

FILE SHARING SOLUTIONS AND VIRTUAL DATA ROOMS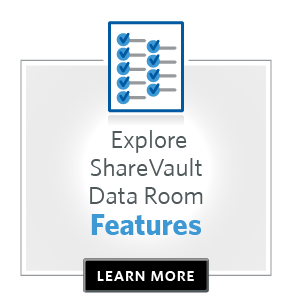 One of the major differences in how organizations do business today is the extent to which they collaborate and share information with other businesses, partners, vendors, investors, law firms and many other entities in order to be successful. The modern work environment is rarely limited to a single office space with a group of people separated only by office walls or partitions. Today's companies work in multiple locations and collaborate very closely with a myriad of other organizations, often on a global basis.
This new business climate of expanded collaboration means that organizations and individuals are often sharing documents outside the company's firewalls. As a result, a myriad of document sharing solutions have sprung up in recent years in an attempt to facilitate this more borderless and global collaboration.
So, what's the right file sharing solution for businesses? The answer is, of course, it depends. If non-confidential information is being shared, then an email attachment might suffice. If team members have a need to collaborate more efficiently (in real time), then Google Docs may be a good choice. There are also a myriad of consumergrade file sync and share solutions, such as Box and Dropbox. But when security becomes a concern, such as during business processes like M&A due diligence, when sensitive corporate information needs to remain secure, many of these consumer-grade solutions fall short and a virtual data room is required instead.
4 TERMS to KNOW WHEN CHOOSING a SECURE DOCUMENT SHARING PLATFORM
A virtual data room (VDR), sometimes called a virtual deal room, is a secure online repository of information used for the storing and sharing of documents with third parties during due diligence and other transactions.
In plain English, due diligence is simply doing your homework. For example, before buying a company you should make yourself an expert on that company and all of its operations. That means investigating every aspect of that company and asking many questions.
CTD is an acronym for "Common Technical Document," which is the pharmaceutical industry's internationally agreed upon format for the preparation of applications regarding new drugs intended to be submitted to the Federal Drug Administration (FDA) and other regulatory authorities in participating countries. The eCTD (electronic Common Technical Document) is the electronic version of this standard.
A corporate repository is simply a place where a corporation houses its documents and critical materials. In the past, the corporate repository would have been a large bank of filing cabinets filled with file folders and paper documents. Today, corporate repositories typically reside in the cloud in a secure virtual data room.
With so many file sharing solutions available, and many tailored for specific needs and with varying degrees of security, it's increasingly important to diligently analyze which solution best fits your businesses' needs for sharing information in the borderless enterprise. Employing the wrong solution could be the reason your customers move to a competitor.
Digital Rights Management (DRM) is a system for protecting mass-produced digital media from unlawful or unwanted copying or distribution. Information Rights Management (IRM) is a subset of DRM. It is a technology that allows digital information (mostly in the form of documents) to be controlled from unwanted access.
Terms to Know for Secure Document Sharing
Redacting text means to permanently remove visible text and graphics from a document. However, be sure not to just draw black boxes over a PDF - to fully redact text, there is a process you must follow to be sure your text can't be copied.