Hierarchical Tags
ShareVault's unique hierarchical tags (patent pending) provide all of the advantages of folders, but with additional flexibility, not available in any other solution. This can be particularly valuable for creating an efficient due diligence list in your data room. Frequently, it is important to place the same file in multiple locations in your hierarchical organization. With other solutions, you are required to either put placeholder documents in the appropriate locations that refer to the actual document, or make multiple copies of the file, and place the copies accordingly. In addition to the cost of the additional storage, you'll need to keep track of each of the copies of the same document. With ShareVault, just tag the same file with multiple tags, and the same file will be shown in each location. This clean and elegant approach provides the best of both folders and tags, and it's only available from ShareVault. Watch a video that demonstrates how ShareVault's tag editing features work.
Instant Full-text Search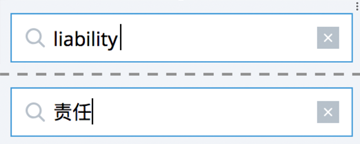 Users can instantly search the entire ShareVault, and see the search results sorted by relevance, with synopses and hit highlighting showing how the searched keyword(s) are used in context. The search engine also provides powerful capabilities such as "stemming" (for example, searching for "finance" will find "financing", "financials" and "financially") and searching of international character sets (such as Chinese, Japanese, Cyrillic, etc.). With ShareVault, search is not a separate feature, its integrated directly into the documents page. ShareVault's powerful search features can help accelerate due diligence because your users can locate important documents more quickly and easily.
Smart Filters
Users can instantly filter files in the document list based on a variety of filtering criteria:
Recent — Only display documents that were published since the last login, or in the last day, week, month or quarter
Read / Unread — Only display documents that have been read, or that have not yet been read
Published By — Only display documents that have been published by a specific user or group
File type — Only display documents of specific file type(s) (such as xlsx, docx, pdf, etc.)
And administrators can additionally filter for:
Viewable By — Only display documents that are permissioned for viewing by specific user(s) or group(s)
Viewed By — Only display documents have been viewed by specific user(s) or group(s)
Favorites
Marking a file or tag with a star makes it a favorite. This can be a real time saver for your end users, so that they can mark certain tags and documents that are of interest, and then quickly filter to show just the favorite files and tags.
Infinite Scrolling
ShareVault is the only solution of its kind offering "Infinite Scrolling", which accelerates the document review process by vastly reducing the amount of clicking required to browse through your content. Remember that your users don't know how you've organized your content, so they would have to "hunt and peck" to find what they're looking for in folders. With ShareVault, they can rapidly scroll through your documents to get familiar with the contents of your vault. The infinite scrolling technology, similar to Pinterest and other state-of-the-art web applications, is extremely difficult to implement, and is yet another example of how ShareVault's innovative software technology sets it apart from the competition.
Zoomable Thumbnails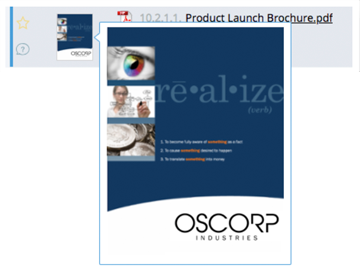 Zoomable thumbnails, another ShareVault exclusive, provides an instant way to take a quick peek at the first page of a document. Next to each document in ShareVault, a "thumbnail", or miniature image of the first page, is displayed, showing the first page. Moving your mouse over the thumbnail instantly shows a zoomed-in magnification of the page. This gives the user an added ability to rapidly get familiar with your documents without taking the time to click-through into the documents.
Customized Branding
ShareVault allows you to embed your logo on every page of our web application, and on the login page. In addition, we can create a custom url (like "your-company.sharevault.net") for your login page.
Index Auto-Numbering
ShareVault can automatically number your indexed hierarchy, so that as you add new tags, or use drag-and-drop reordering, the numbering automatically updates. Due Diligence lists are traditionally numbered in this fashion, so this feature is a significant timesaver for due diligence. To avoid changing the numbering after you've "gone live", use the "freeze index" feature, which prevents the index from being renumbered by always putting new content at the end.
Drag-and-Drop Reordering of Tags and Files
When organizing content for review by third parties, you'll want to have control over the hierarchical order. With ShareVault, you can sort content alphanumerically, by date, or you can even customize the order using drag-and-drop. The auto-numbering automatically updates when you change the order, putting you in control over exactly how your content is organized. Trying to organize your content for efficient due diligence with a general purpose file sharing solution is not just frustrating, but impossible, resulting in unnecessary delay. Learn more about ShareVault's features by watching a demo video.