Maximum document security
for a
Board Portal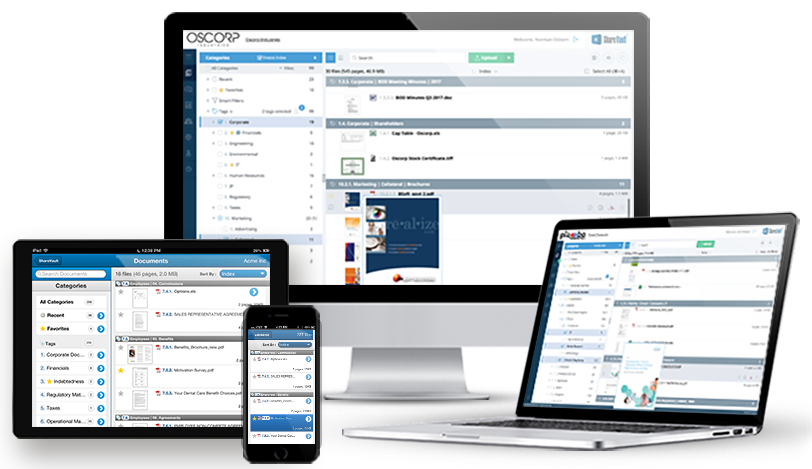 PROTECT YOUR COMPANY WITH AN ULTRA-SECURE BOARD PORTAL
Every public company needs a secure environment where the Board of Directors and senior corporate executives share documents – financial information, legal and HR issues, market analytics, IP status, and other confidential documents – as they develop strategy and engage in policy making.
While this secure environment has traditionally been a designated Board Room in your corporate offices, today, an online Virtual Data Room (VDR) serving as a Board Portal is better suited to the real world. With a board portal Execs and board members can have password-protected access to current and archived documents, at any time, from anywhere, from any registered device.
Time-tested secure Board Portal
Today's organizations are faced with an increase in both volume and complexity of compliance standards coupled with a surge of security risk. When sharing sensitive documents with board members, it's essential to minimize the risk that information falls into the wrong hands.
Available for more than 15 years, ShareVault data rooms have found their way into almost every secure document sharing application imaginable, including investor and board portals. It has been used extensively as a Board Portal and for due diligence in tens of billions of dollars in institutional investments, restructurings, merger and acquisitions, partnering and other deals.
Thanks to the most granular document security controls, including the ability to remotely shred a document even after it has been downloaded, ShareVault is the platform of choice for the most security conscious.
Highest Levels of Document Security
ShareVault VDR Board Portal administrators can maintain policies that strictly govern what an individual user or a group of users can see and do. And they can be applied broadly to folders or documents or to just a single document as needed. No other Board Portal solution offers quite the same granularity, visibility and control that you get with ShareVault, most are limited to simply view, print and download.
From tamper-proof watermarks on documents and videos, to blocked printing to file, blocked screen scraping and screen shots, encrypted downloads and limited offline access you have the maximum flexibility to match the board's need for convenient access to the best security practices applicable for each class of documents. Learn more about ShareVault's granular documents controls.
These administrative controls not only protect document confidentiality, but also allow the Board to meet regulatory transparency and compliance requirements. And unlike unsecured email and other haphazard collaboration channels, the VDR environment protects all documents with bank-grade security and a detailed audit trail down to page-level user activity.
Streamlined Board Portal administration
ShareVault's Board Portal offers much more than just security – Starting with drag-and-drop tools to build document folders, it includes built-in features like auto-conversion and auto-unzip that makes it fast and easy to organize documents, unpack big zip files and convert anything to PDF. So, administrators spend less time uploading and organizing files and have more time for security and analytics.
Proven, easy to use Board Portal solution
ShareVault's Board Portal lets board members enjoy easy and immediate access to all relevant documents, from any device, from any location. This enables them to be better prepared for more effective decision-making.
Smart Search provides advanced features to find documents by keyword, subject, author, and date as well as providing shortcuts to previously viewed documents. While our offline viewing feature lets them download a document and view it locally for a few days or just hours, for example if they are flying or in transit and don't have reliable access to the internet. They still can't share that document, but for a short time they can view it on the same designated device they downloaded it to.
You can even set expiry dates on certain documents to encourage members to look at them sooner rather than later.
Your board members can get in and out and find what they want with ease, and you can track whether or not they did, using ShareVault's detailed analytics.