How to Organize a Virtual Data Room for Biopharma Partnering
05 July, 2020
Given the rapid pace of innovation in today's Life Science industry it has become more important than ever for biotech companies to align themselves with strategic partners in order to advance their most promising drug candidates toward market readiness. But, successful biopharma partnerships don't happen by chance and negotiating an out-licensing deal can be complex—especially when the company may also be progressing the clinical portfolio.
STRUCTURE YOUR VIRTUAL DATA ROOM TO ACCELERATE YOUR DEAL
Life science companies attempting to optimize the commercialization of their assets often find the process daunting. In addition to determining the appropriate value of the asset and being prepared for negotiations, life science companies also often face the challenge of how to best organize and present all the data and documents to potential partners in order for them to make an informed decision.
The ideal platform for doing this is a virtual data room. A virtual data room not only keeps information secure but also offers many other features that minimize risk, save time and increase the likelihood of completing successful transactions.
VIRTUAL DATA ROOM FUNCTIONALITY
Access: Access levels in a virtual data room can be customized based on the stage of diligence for the particular partner. During the early stages of diligence, you may only want the potential partner to have access to a limited number of files. As diligence progresses, and the seriousness of the partner is demonstrated, more access can be granted. It's also possible that different groups within the same company might be granted different levels of access to the data room.
Printing: Most data rooms have the capability to allow or disallow printing on a document-by-document basis. When printing is enabled ensure that appropriate watermarks are added.
Downloading: A data room will also allow or disallow for downloading of documents. Some data rooms have the additional functionality of being able to "virtually shred" documents after they've been downloaded.
Additional Functionality: Other features to look for in a data room include the ability to see which files and pages have been viewed, by whom, and for how long, as well as customized reporting tools.
Recommended Data Room Structure for Due Diligence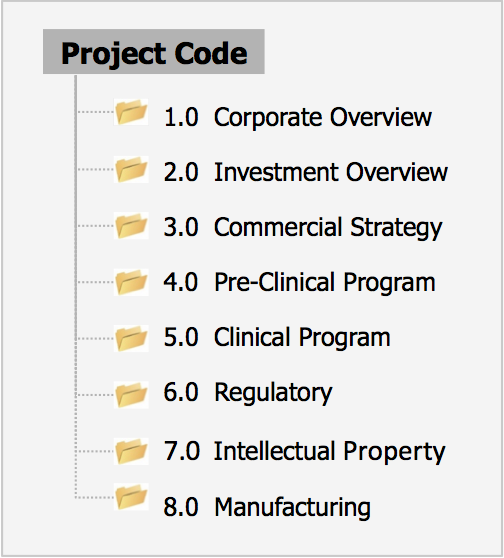 Not all deals are the same and not all assets are the same, but populating your data room with the following information will give you a good start when a potential partner or licensee wants to begin negotiations. If further information is requested it can be added to the appropriate place in the data room in a matter of minutes.
Corporate View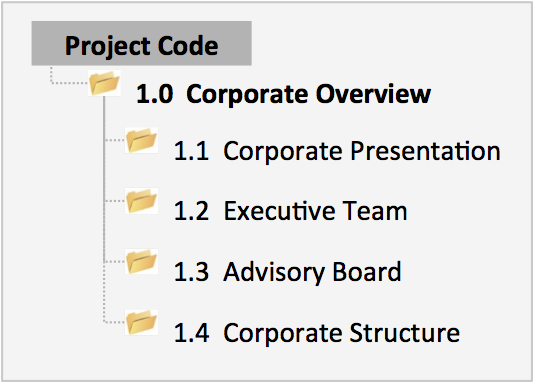 The Corporate Overview folder will contain information on the overall company and its focus as well as providing details on the executive team, advisory boards, and corporate structure. The number of files in this folder will depend on the size of the company as well as the intended deal structure. For example, a corporate transaction will have significantly more files within this section compared to a product-level transaction.
Investment Overview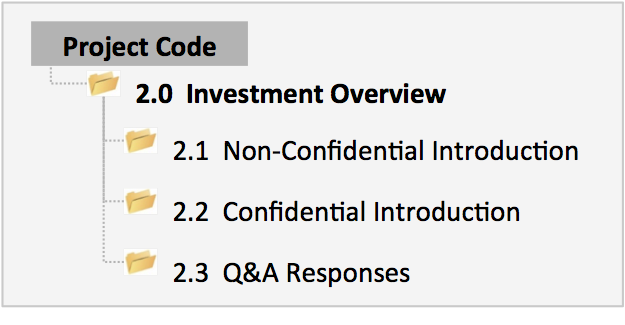 The Investment Overview folder will contain information that will be accessibility staged for the different levels of the diligence process. It might contain a non-confidential deck, a confidential deck, and possibly a folder containing Q&A responses customized for a particular company.
Commercial Strategy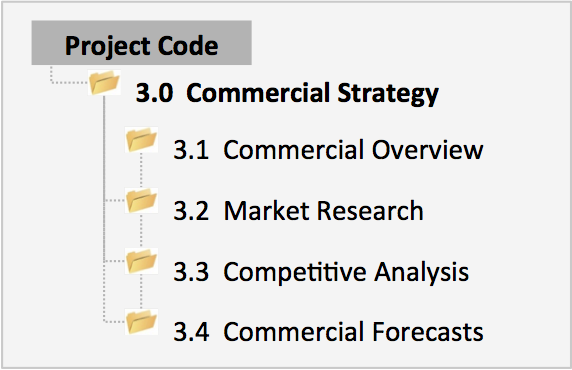 The Commercial Strategy folder will contain an overview folder followed by more detailed information about the company's commercial strategy including market research that's been conducted, competitive analysis and commercial forecasts. Most partners will expect some level of market analysis, especially as a product nears the market.
Pre-Clinical Program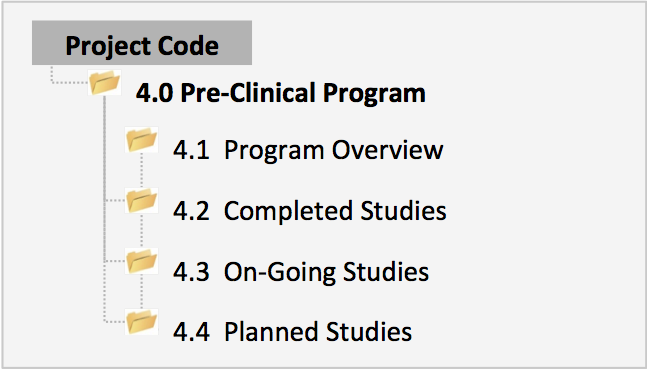 The Pre-Clinical Program folder will have an overview folder, as well as folders containing completed studies, on-going studies and planned studies. The overview folder should contain a description of all studies, timing and status. The specific folders should contain completed reports (or draft reports) of all studies. Published manuscripts should also be included.
Clinical Program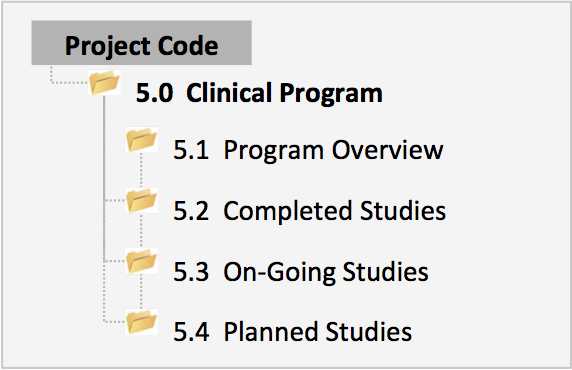 The Clinical Program folder will be very similar to the Pre-Clinical folder starting with a program overview folder then progressing to completed studies, on-going studies and planned studies. The Overview folder should contain a description of all studies, timing and status. The specific folders should contain completed reports (or draft reports) of all studies. Published manuscripts should also be included.
Regulatory Requirements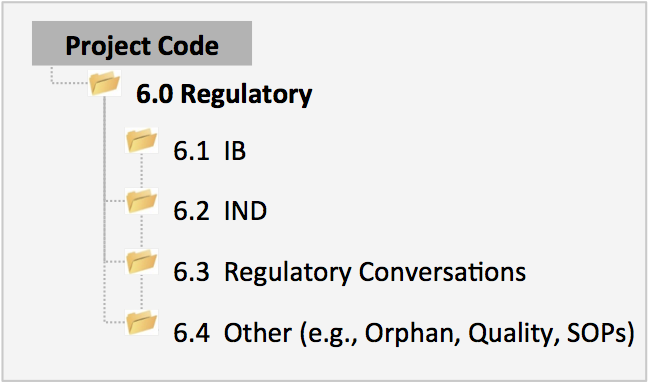 The Regulatory folder will contain a folder for Investigator's Brochure (IB), a folder for IND as well as a folder for sequentially placed regulatory conversations that may have taken place. The regulatory folder should contain the latest documents and an archive of historical regulatory documents.
Intellectual Property Rights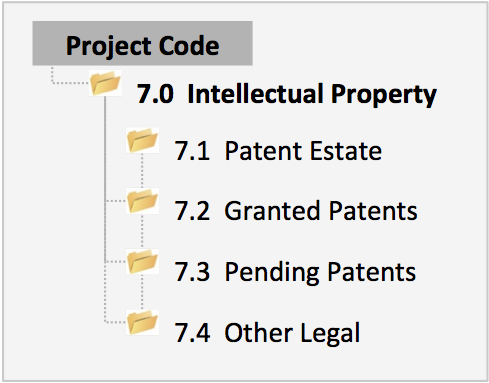 The Intellectual Property folder will contain patent estate, granted patents, pending patents and other legal documents that may be of relevance.
Manufacturing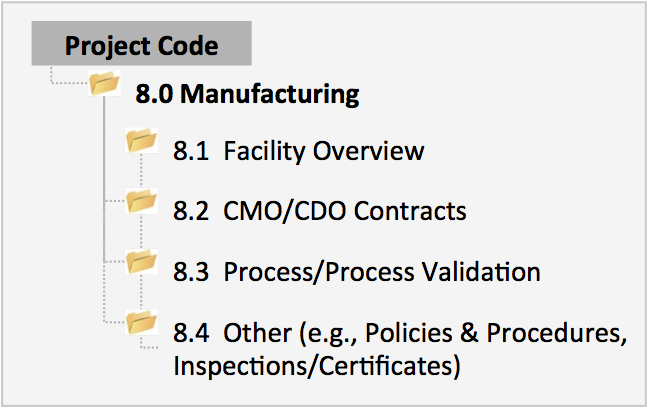 The Manufacturing folder might contain a folder containing a facility overview, CMO/CDO contracts, process and process validation data, as well as other policies and procedures, inspection documentation and certificates. Specific manufacturing data is not normally shared until late in the due diligence process.
Wrap Up
BioPharma partnering and out-licensing can be daunting, but it doesn't have to be prohibitively so. The key to successful biopharma partnering is being prepared well in advance of negotiations, determining the appropriate value of the asset, being internally aligned on both deal value and deal structure, and then presenting due diligence materials in a well-organized data room for partner review.
To learn more about how a virtual data room can facilitate and streamline the biopharma partnering process, download the free white paper, "Four Essential Steps to Successful BioPharma Partnering."