Secure Printing
ShareVault's unique Secure Print feature, available only with ShareVault Pro and ShareVault Enterprise, allows printing to physical printers while preventing printing to PDF. This provides an additional security countermeasure since printing to PDF is the equivalent of being able to save a high fidelity digital copy of the document.
Screen Capture Prevention
ShareVault is the only virtual data room that can be configured to prevent screen capture on Windows, Mac, iOS devices and Android devices. Available only with ShareVault Pro and Enterprisde, Screen Capture Blocking is extremely robust and blocks not only third party screen capture software (such as SnagIt), but also screen recording and screen sharing software (such as GotoMeeting), so your confidential content is displayed only to the intended users.
Dynamic Watermarking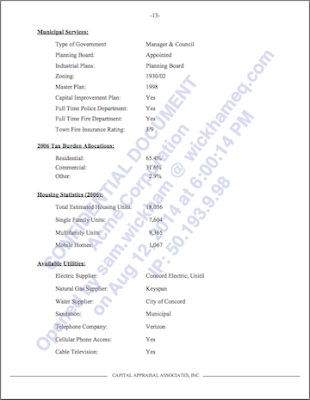 Based on the security policy that you've defined, ShareVault automatically applies customized, dynamic watermarks to each page of protected documents and spreadsheets, as well as to protected videos. Watermarks are clearly visible, applied diagonally across the page, yet do not interfere with the readability of the underlying text. The watermark text is customizable, and you can embed the following dynamic information:
User's email address
User's IP address (only with ShareVault Pro and ShareVault Enterprise)
Current date
Current time
ShareVault Pro and Enterprise allow customizing the font, color and opacity of the watermark, and support multiple watermark configurations that can be applied to different security policies.
Watermarking provides a clear reminder to the reader that the content is confidential, and since the user identity can be included in the watermark, it allows for a simple but effective deterrent against distribution of the printed documents (if you allow for printing) to unauthorized readers.
Protected Offline Viewing
ShareVault Enterprise includes Protected Offline Viewing, which extends ShareVault's powerful Information Rights Management (IRM) to include the ability to allow some or all of your users to access protected files even while offline for a defined time period. When a user attempts to open a protected file that's enabled for offline access, and ShareVault permissioning servers cannot be contacted, then the file will open as long as the allowed access period has not expired. The next time the user connects to ShareVault, the viewing activity for documents viewed while offline will be updated. This feature allows certain users to securely review documents even while in-flight or in a remote location.
Configurable Expiration
The policy can be configured to expire files either on an absolute date or after a relative delay (number of days) from the time the files were uploaded, after which the user will no longer be able to access files to which the policy has been assigned. This allows you to automatically enforce deadlines associated with your business processes. Using this feature in combination with Information Rights Management (IRM), even documents that have already been downloaded cannot be opened after expiration.