Smooth, Fast, Continuous Document Scrolling
ShareVault document viewing technology allows for extremely fast, smooth and continuous scrolling, so users can "rip" through documents with realtime high-speed scrolling. This capability enables "skimming", which is essential for speed reading, so your users can more quickly review documents. Most other secure document viewers display one page at a time, which severely impedes the speed of document review.
Secure Spreadsheet Viewer
ShareVault's secure spreadsheet viewer securely displays Excel files right in your users' browser, so your end users can quickly and easily view spreadsheets with secure protection. The spreadsheet viewer behaves just like a standard spreadsheet viewer, with resizeable rows and columns, support for multiple workbooks in tabs, and full compatibility with everything from graphs to pivot tables. Your users can easily review your spreadsheet contents with watermarking and without being able to copy, print or save.
Secure Audio / Video Player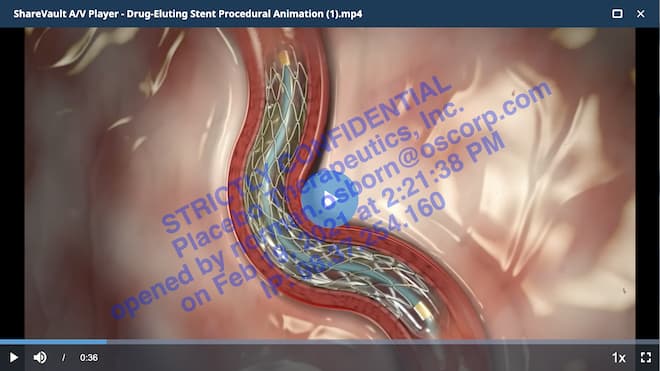 The secure audio / video player, available only with ShareVault Enterprise, plays A/V files securely in your end user's browser. Just upload your media files, and ShareVault automatically transcodes them for playback using Apple's HLS live-stream video protocol for high fidelity. Most media file types are supported, including MP4, MOV, AVI, WMV, WAG, MP3, M4A, FLV, AAC, WMA, FLAC, OGG, OGV, MKV and WEBM.
ShareVault video files are rights managed for security, preventing your users from sharing the content. In addition, based on the security policy that you select, dynamic watermarking can be automatically applied to your videos for additional security.
The A/V Player provides a full suite of playback control features including sidebar navigation to other media files in your ShareVault, playback speed control (to play media faster or slower than normal), playhead timeline controls, volume control, resize, picture-in-picture, and fullscreen viewing.
Often our customers' intellectual property is embedded in A/V files, including confidential Zoom recordings, recorded conference calls, proprietary video storytelling or mechanism of action animations, recorded legal testimonials, videos illustrating trade secrets, proprietary processes and methods including surgical procedures or unreleased creative audio / video productions. In any of these cases, the ShareVault secure video player is the ideal solution for easy, secure sharing of audio / video content.
It's easy to securely share your Zoom video or audio recordings via ShareVault.
Inter-Document Hyperlinking
Often documents contain "inter-document hyperlinks" which allow a reader to click a link in one document to open another document. These hyperlinks use a "relative path" to refer to another document on your computer, but when you upload your documents to a document sharing platform, all of these links will break. The inter-document hyperlinking feature, available only with ShareVault Enterprise, provides a solution to this problem. Our unique software scans each of your documents for inter-document hyperlinks and replaces them with the corresponding ShareVault document URL, so that users with the appropriate permission can just click to instantly open the appropriate document.
Inter-document hyperlinking is yet another unique ShareVault feature that significantly accelerates the speed of document review, particularly important for applications such as reviewing eCTD regulatory submissions.
Batch Download
For large document review projects, allowing your end users to batch download documents to their computer can significantly speed up the document review process. ShareVault provides a batch download feature, allowing administrators and end users (ShareVault Pro and ShareVault Enterprise only) with download rights to select many documents at once, even the entire contents of your ShareVault, for batch download. The downloaded documents are encrypted and compressed into a single zip file. IRM protected documents remain under your control, however, and you can digitally shred documents at any time.
Batch Print
Some users prefer printing documents, so ShareVault Pro and ShareVault Enterprise provide a batch print feature. If printing is allowed, your users can select a set of documents, click the batch print button, and make a customized booklet, complete with optional table of contents, page numbers and separator pages. IRM protected documents will not print to PDF so you keep control over the electronic version of your documents.