Secure Document Sharing and
Collaboration for
Life Sciences
Speed up development
without sacrificing security.
The arc of development for a Life Sciences project is often long and complex: an in-house team collaborating with a range of experts, who access and create scores of documents and reams of data. To avoid leaks to competitors and access to hackers, confidentiality and security are essential. And always, the pressure is on to complete the project, find partners and monetize your product or discovery as quickly as possible.
That's where ShareVault comes in. ShareVault is the world's most secure Virtual Data Room designed for storing and sharing your most confidential documents securely with 3rd parties, regulators and internal stakeholders.
Built for the
Life Sciences
ShareVault is the only virtual data room provider with features specifically developed for life sciences applications, such as inter-document hyperlinking and integrated eCTD Viewer, which streamline the review of regulatory submissions.
Best in class document security features combine with speed, ease-of-use, and fast, easy set-up. ShareVault offers the most granular document control in the industry, and incorporates a powerful, full-text search engine and an integrated Q&A module for secure centralized management of due diligence questions.
ShareVault also supports the signing and tracking of legally enforceable agreements at login, which accelerates onboarding of users to your data room, and eliminates the manual chore of chasing and keeping track of agreements.
Best of all, it's all backed by our responsive 24/7 customer support.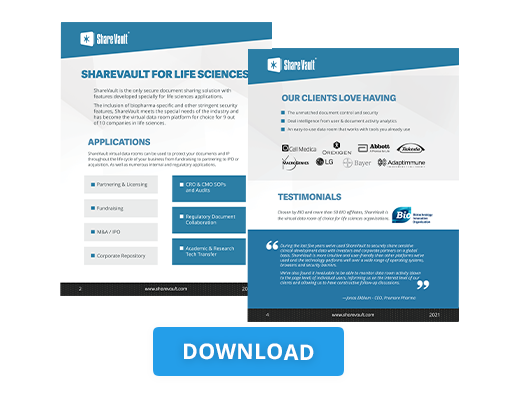 THE
ULTIMATE DATA ROOM

FOR LIFE SCIENCES

With specialized features specifically for Life Science documents types, and the exclusive endorsement of BIO the Life Sciences industry association, ShareVault is the platform of choice for a range of applications:

Whether your Life Sciences sector is Diagnostics, Therapeutics or Medical Devices, ShareVault facilitates document sharing and collaboration while enforcing stringent document security for your team, collaborators, senior management, and outside parties like investors, partners and regulatory agencies.
Talk to us today
9 out of 10 Top Pharma Companies
Use ShareVault. See if you should too.
Recognized Leader
in Life Sciences
ShareVault is the leading virtual data room provider to the life sciences market, and has been selected by the Biotechnology Innovation Organization (BIO) and more than 50 other life science industry trade associations for their Business Solutions Program
ShareVault Data Rooms are 21 CFR part 11 Compliant. Learn why this is so important for clinical trials
Time-tested in
Life Sciences

around the world

ShareVault's value goes beyond the development process: it is the ideal solution for sharing confidential documents with partners, regulatory advisors, CROs, CMOs and other third parties. When regulatory submissions are required, ShareVault's enterprise-grade solution provides the ideal platform for sharing Electronic Trial Master Files (ETMF), Investigational New Drug (IND) applications, New Drug Applications (NDA), Abbreviated New Drug Applications (ANDA), Biologics License Applications (BLA), Drug Master Files (DMF), Biologics Master Files (BMF), Emergency Use Authorizations (EUA), other regulatory submissions.
Webinar —

Quality by Design:
Remote Monitoring and ETMF Integration
In this webinar, Janice del Rosario, TMF Consultant at LMK Clinical Research Consulting, and Mike Liccardo, VP of Corporate Development & CFO at ShareVault, explore how to implement a Quality by Design approach to remote site monitoring by leveraging your eSystems while remaining compliant.
A Few of Our Life Sciences Customers
---
---
DEEPEST EXPERIENCE IN LIFE SCIENCES
"ShareVault gives us the ability to stage the sharing of intellectual property securely, explore partnerships with a greater number of organizations and share different tiers of information as relationships evolve."
"With ShareVault, we're prepared for due diligence far ahead of time. Our data is organized, we can grant customized access to potential partners and our information is organized, safe and easy to access."
"Uploading documents to ShareVault is easy and fast and the organizational structure is straightforward and dynamic to our needs. Being able to designate who can access specific documents and then knowing what is being reviewed is also important. It is also very easy to use search terms to find specific documents, which also saves time."
"After struggling with other systems, we moved to ShareVault and have found that inviting users and tailoring the permissions of documents couldn't be simpler. We also have every confidence that our sensitive materials are completely secure. When situations change, it's a snap to change or revoke access."
"The tracking metrics were great, allowing us on a real time basis to see who had been accessing each document and for how long they were logged in. I was very happy with the selection of ShareVault and felt that it contributed to the ability to complete our process on a timely basis."
"We chose ShareVault for its ease of use and rich feature set as well as its flexibility for providing secure access to documents in a variety of situations. In our case, we needed the ability to easily manage multiple levels of access. We also appreciate how easy and intuitive ShareVault is to use. Our administrators were publishing in the system and managing documents in a matter of minutes."
"ShareVault is more intuitive and user-friendly than other platforms and the technology performs well over a wide range of operating systems, browsers and security barriers. We've also found it invaluable to be able to monitor data room activity (down to the page level) of individual users, informing us on the interest level of our clients and allowing us to have constructive follow-up discussions."