21 CFR Part 11 Compliance
As the leading provider of Data Rooms to the Life Sciences industry, our software is widely used for handling clinical trial data and other information pertaining to medical device development, diagnostics, therapeutics and storing highly regulated data affecting many areas of the business.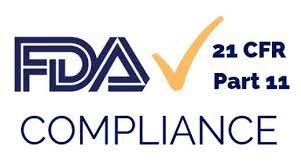 That's why we recognize the importance of satisfying 21 CFR Part 11 Compliance for our many customers who are regulated by the FDA and other regulatory agencies. We understand the level of scrutiny your company may be subjected to if the FDA has cause or just a whim to investigate. You can rest assured if they cast their attention on your use of ShareVault software, you won't run into any problems.
At ShareVault, Code of Federal Regulations (CFR), Title 21, Part 11 compliance validation is built into our standard quality process as part of every release. We follow the compliance best practices or protocols defined by the compliance validation V-model.
If the FDA asks whether ShareVault has been validated, you can confidently confirm that it has, and if you or they were to validate it yourselves you will surely find that the latest version of ShareVault data room software was released and deployed correctly, operates correctly and performs as intended as per IQ, OQ and PQ.
Learn more about ShareVault 21 CFR 11 Compliance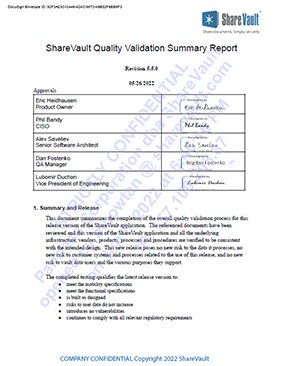 See an example of a recent Validation Summary Report which summarizes everything we did in the release, from new features to regression test results.
Contains all the necessary information, test scripts and instructions for customer to conduct their own risk assessment and software validation.