How Clickwrap Saves you Time and Speeds up Due Diligence
5 January, 2022
"The marketing dollars are irrelevant if onboarding is terrible." These nuggets of customer acquisition gold laid down by Peter Kazanjy (Founding Sales) ring true for any business out there.
For online ventures, the onboarding experience is the first rep that greets new customers when they start using your service, site, or app.
This means increasingly stiff competition and 'who's firsts' when it comes to creating a minimal yet remarkable user experience (UX).
A bad onboarding UX will kill your applications faster than your lead acquisitions team can get them. Same goes for M&A negotiations and fundraising - the sooner you get prospects past the necessary paperwork, the better your chances of closing deals.
With that in mind, let's address the main challenge that comes with getting prospects and partners onboarded into your virtual data room for due diligence: The Confidentiality Agreement.
The basic process to get someone into your data room is to first mail them a CDA, LOI, NDA, or other type of 'terms of engagement' for them to sign before they can gain access to confidential data.
The Bad News
Unfortunately, no-one ever responds immediately. There's usually a lot of chasing and cold-shoulder follow up involved. At best, it's still a two-step process even with electronic signing solutions like Docusign.
With a large enough list, it would take an ungodly effort to track who replied and who didn't, archive the NDAs/CDAs and correlate each one with invites sent and user IDs.
And what if the terms change along the way? Are you going to deactivate all users and onboard them all over again so they can agree to the new terms? Of course not, that would be a highly disruptive, never ending, and parasuicidal undertaking for your business.
This is where Clickwrap comes in to fill a long overdue void.
What is Clickwrap?
Clickwrap Solves the Problem
Clickwrap is a new standard that provides a simple way to manage and track the signing of legally enforceable agreements. This allows businesses to limit their risks without impacting the customer experience or conversion.
Having Clickwrap support puts an end to all the time consuming chores by completely shifting the paradigm on its head. So instead of chasing after prospects to sign CDAs like a door-to-door 'door' salesman, you can invite them first and then grant access once they agree to the set terms.
As the first Clickwrap compliant, Bank-Grade document security system, ShareVault lets you use your own terms in the entry page. End users have to fully scroll through and agree to these terms before logging in. The support works automatically to make sure that all your entry page agreements are legally enforceable.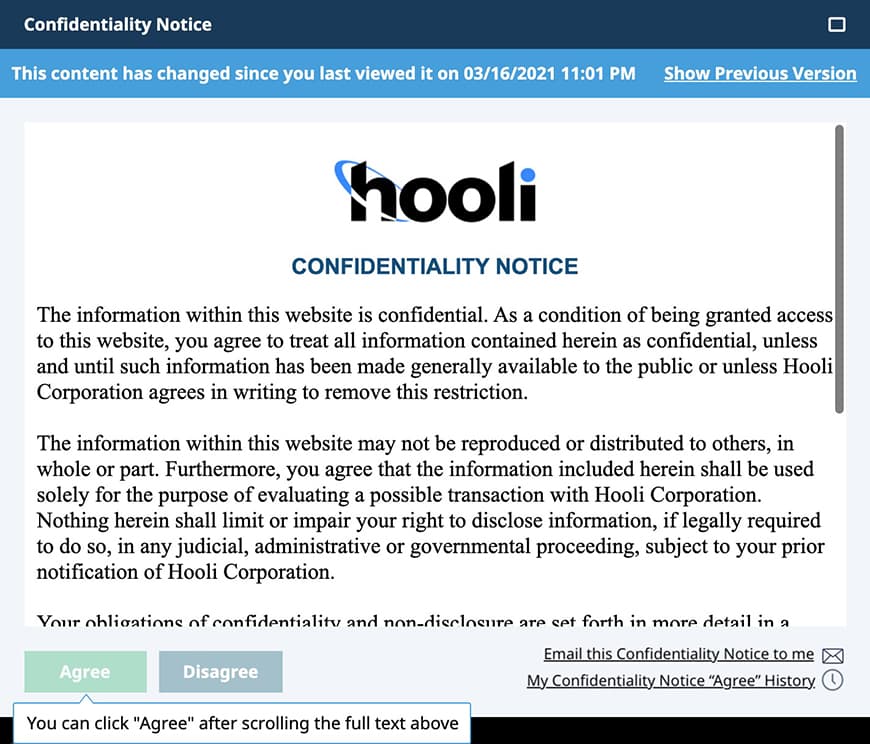 But before we get to ShareVault, what exactly does it take to comply, and just how legally enforceable are these type of agreements?
Clickwrap Under US Law
Fun History Fact: Clickwrap agreements actually got their name from terms printed on product packaging that was visible through the cellophane. The terms noted that by breaking the shrink-wrap, you agreed to the shrink-wrap agreement hence Clickwrap.
Since the mid-1990s, the principles of contract law have supported the legal enforceability of digital agreements in the US.
Additional statutory support for the enforceability of Clickwrap agreements has been provided in 1999 and 2000 by the Electronic Signatures in Global and National Commerce ACT (ESIGN) and the Uniform Electronic Transactions Act (UETA).
Clickwrap enabled agreements are supported under international law. You can read more about Clickwrap and basic contract law, under the EU and other jurisdictions here.
Clickwrap Standards for Compliance
Here are the standards and suggested practices for Clickwrap agreements. Notwithstanding the type of agreement or transaction, an effective Clickwrap process has to address the following.
Highly Visible and Available Terms – In addition to being presented clearly on the screen with a call to action, the customer should also be able to read the contract terms to their entirety.
Non-Porous with Reasonable Notice – The entry page should clearly call out the users' attention upon landing. Unless the user clicks the button or takes affirmative action, there should be no other way to obtain the product/service.
Enforceable Terms – While being brief and easy to consume, companies should draft their own contract term and provide all information required by law.
User Certification - informative statement and call to action should also state that the assenting party has read and agreed to contract terms.
Evidence of Agreement – The company needs to retain evidence of agreed terms as well as the entire process for future reference.
ShareVault Industry Offering
Having seen the effort it took for ShareVault to check each and every one of those boxes, what exactly does this compliance mean for you?
If you have the Clickwrap option enabled in your ShareVault, you get an automated way to guarantee the enforceability of all your entry page agreements according to UETA and ESIGN requirements.
And if you have different sets of terms, you can use multiple agreements with each one assigned to a specific user group.
Similarly, the additional flexibility means you can change your terms of agreement anytime you want. Users will be notified the next time they log in and will be required to agree to the new terms before proceeding.
End users can also email the terms to themselves and view an archive of the history of all past agreements.
ShareVault also offers standard entry page customization features such as
Create a fully customized, formatted and branded agreement of any length
Customize the 'Agree/Disagree' and language buttons
Options for multiple entry pages to allow for different user group assignments
Importance of Clickwrap Compliance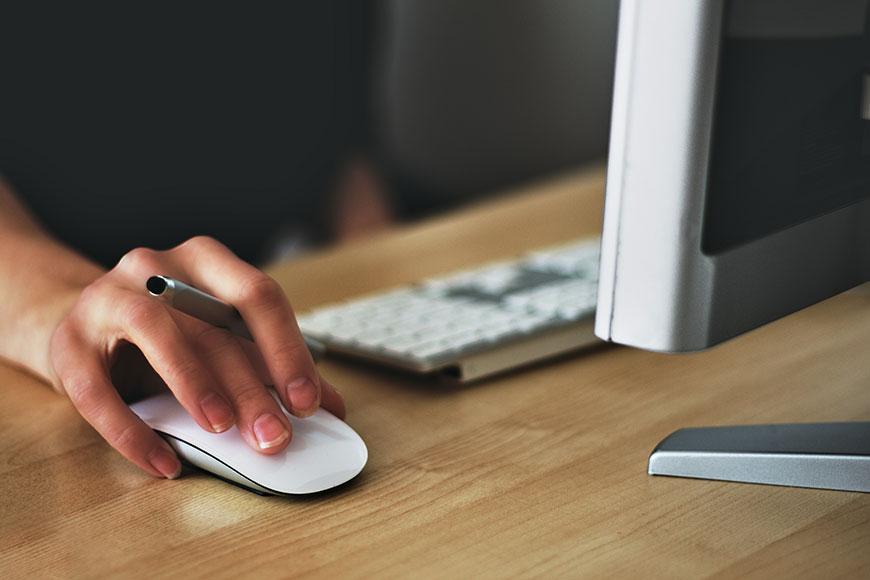 In addition to enhancing the functionality of our entry page, the main imperative for the ShareVault Clickwrap option is to provide features that are instrument in complying with UETA and ESIGN Acts.
Courts are now applying far more exacting standards when evaluating the fairness and effectiveness of online contracting.
It's not uncommon for the judicial analysis to turn south due to how the button is labeled, a particular aspect of the website design, terms being visually obscured by ads, color, font, formatting or even what the reasonable internet user would conclude the terms were.
This has gotten a lot of companies in Clickwrap litigation troubles since 2002.
To illustrate, let's look at 2 cases that evolved our modern understanding of Clickwrap law and best practices.
Clickwrap Litigation Examples
Specht v. Netscape (2002) - Seen as the original Clickwrap case, Netscape included the language "Please review and agree to the terms" on the web page where users visit to download software.
Unfortunately for the father of Clickwrap litigation, the language was at the bottom of the screen and users weren't even required to agree to said terms in any other way! Scintillating.
Needless to say, the court determined that clicking a button doesn't necessarily constitute or indicate agreement to terms if the customer was not aware of the existence of said terms thus rendering them unenforceable.
Nguyen v. Barnes and Noble, Inc. – The geniuses over at B&N, included a link to their Ts & Cs at the bottom left corner on every single page on their site. If a user opened the link, they would see language saying that they accept the terms of use by visiting or performing any activity on the Barnes and Noble site. Great job!
Lamentably, Barnes and Noble's link did not otherwise call the terms out to the users' attention nor did it require explicit, prior assent to the terms. Naturally, ruling passed against B&N for failing to put users on reasonable notice.
These are just a few cases that highlight the significance of capturing affirmative assent to terms and conditions as well as putting the uses on notice. If you ignore them and find yourself in a legal quandary, chances are the courts will not enforce your agreements.
Resistance
By now, you must be wondering why most companies don't offer Clickwrap options. Why on earth is ShareVault the first ever Clickwrap compliant data room in the world?
As a leader in document security systems, we value the confidentiality of our data rooms and have taken extra measures to enforce it. So much so that ShareVault is ISO 27001: 2013 certified for gold standard document security processes.
ShareVault's Clickwrap support provides additional security plus an automated way to assure the enforceability of your NDAs, CDAs, and other entry page agreements. Best part is, users get their invites first and only gain access once they agree to your Ts & Cs.
As for the resistance, presenting all users that enter a data room with a legally enforceable agreement is not easy. It's a huge administrative burden and the cost of ensuring compliance can often run high.
What's more, a confidentiality agreement is typically signed between parties prior to one of them being granted access to the other's data room. The agreement simply reminds users of previously signed terms which works fine if all parties in the data room belong to the same entity. However, there are usually multiple third parties involved when it comes to accessing a data room.
These and other reasons are why many information security systems shy away from offering Clickwrap support to their clients. But buyer beware: data rooms and other information security systems that fail to do this had better brace for the steaming heap of lawsuits and Clickwrap litigation headed their way.
Credibility/Customer Stories/Referrals
With over 100,000 businesses in 48+ countries using ShareVault for unmatched document security, we've got to be doing something right! At least our customers seem to think so.
"We conduct due diligence on clients and upload highly sensitive documents to data rooms for external sharing with shareholders. We couldn't find a data room that complied with Clickwrap regulations until ShareVault who now saves us thousands of collective hours when it comes to getting NDAs signed. It has really streamlined our process and it gets investors and partners inside the data room sooner."
"ShareVault helps us share extremely secure and confidential information with different permission settings for users. This means users with limited access can't take screenshots, or carry documents home. The documents also get completely wiped out once a user gets offboarded. It's this automation that keeps us coming back to ShareVault."
"We've been ShareVault customers for the past couple of years and have used ShareVault to supply sensitive information to potential investors and business partners with great success. ShareVault's support team is excellent, and the product itself is intuitive and easy to use."
Why You Need to Act Now
Prospects, partners and companies need to act now to prevent the barrage of legal issues mentioned above.
Courts are now applying stringent and exacting standards when evaluating the fairness and efficacy of online contracting. As such, it's up to you to assure the enforceability of all your terms of use.
If you've already started sharing documents with third parties only to later discover that the NDA's and disclosure agreements used in your data rooms are not legally enforceable, it might be too late by then.
Bring your data room confidentiality notice into compliance with ShareVault's Clickwrap option before you end up in legal disputes.
Call to Action – So What are you Waiting For?
The only looming question now is, would you rather act early and get assured enforceability for your entry page, or ignore the facts and hire an expensive litigation lawyer later on?
Talk to your ShareVault representative today to get this must-have option added to your subscription. Watch this video to learn how Clickwrap cuts down time spent chasing down NDAs.
OR, if you would like to learn more about the ways that ShareVault streamlines due diligence and get you deal-ready faster, book a demo of ShareVault.
Visit our website and get started with your free trial. We give you both the admin and user perspectives to see how documents are easily viewed, protected, and tracked. In addition to a personalized walkthrough, the trial grants you 7 days unlimited use with 24/7/365 support.
Summary
The need to safeguard the enforceability of your entry page has never been more imminent than today. Your business deserves it, and Johnny law demands it. By reading this post, you have agreed to observe Clickwrap law and best practices, as well as avoid any litigation scuffles in future.
Try ShareVault now for Bank-Grade compliance, security, and availability. ShareVault is ISO 27001:2013 certified and has implemented all necessary measures to safeguard security management systems and data rooms from compromise. Visit www.SRIRegistrar.com to verify the authenticity of our certificate.
You can also read more on our other certifications, architecture, software development, encryption, and availability by checking out our entry page.
ShareVault - enjoy the highest level of document monitoring and protection with the first ever Clickwrap compliant data room.