ShareVault 4.0.1 Update: Important Changes to Permissioning and Policies
20 December, 2018
ShareVault 4.0.1, released today, includes important changes to permissioning and policies, as well as a number of other minor improvements.
All ShareVault administrators should read the following carefully.
Changes to Permissioning
The "Inherit From Parent Tag" checkbox has been removed from the tag permissions panel on the Documents page. Based on customers' feedback, we found that this checkbox was confusing and did not provide the desired functionality.
Instead, we've changed the "Apply" button in the tag permissions pane to provide two choices for any tag that has subtags: Apply the permission changes only to the selected tag(s), or also to the selected tag's subtags: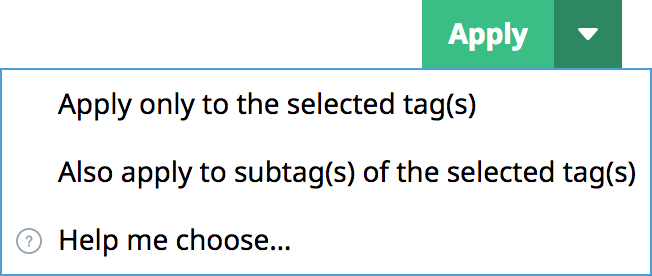 Similar changes have been made to the permissioning on the Users & Groups page.
Changes to Policies
If your ShareVault is new enough so that you started using it after we released ShareVault 4.0 on August 29th, then this change will not affect you, however if your ShareVault is older, then it was upgraded from version 3.3 and we recommend that you upgrade your policies accordingly.
In version 3.3, policies were applied to all file types, even file types that cannot be converted to PDF. As a result, you had to do permissions overrides in order to make such files downloadable by your end users.
In version 4.0, policies are only applied to files that can be converted to PDF. Other files are left unprotected so that they can be downloaded. This saves you the step of having to do do the permissions override.
In addition, you can modify the list of protected files for each policy. This allows you to create a policy that leaves certain file types unprotected.
It's easy to upgrade your policies to use the new approach. On the policies page, below the security attributes, there's a link that says "All file types protected". Click the link, and follow the instructions.
Other Improvements
There is also an improved Excel export of the ShareVault index, as well as performance enhancements, other bug fixes and minor enhancements based on feedback received since the launch of version 4.0. We expect that these customer-driven changes will further enhance your use of ShareVault.
Please do not hesitate to contact our support team if you have any questions.