5 Indications That New Gene Therapies for Rare Disorders Is a Bunny That's Not Going Back in The Box [Pie Chart]
29 May, 2020

Exciting new gene and cell therapy technologies have the potential to treat devastating inherited diseases and rare disorders for which there is little hope of finding a conventional cure.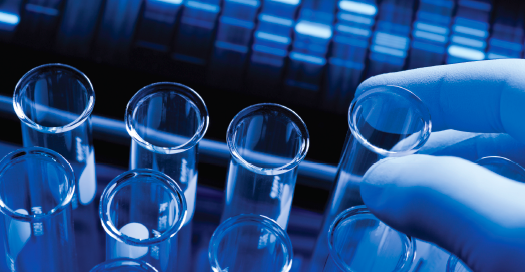 Recent cutting-edge advances in genetic therapies are likely to provide game-changing treatments, if not cures, for many patients with rare inherited disorders.
Many speculate that advanced viral vector platforms are likely to reach the market in the next couple of years. In addition, optimism has been building in the industry following exciting recent breakthroughs in gene editing.
But how do we know if we're there yet? Below are five industry trends that indicate that optimism is high in the gene therapy field and that we may very well see gene editing therapies for rare, and not so rare, disorders getting market approval in the very near future.
1. Publications
A good indication of maturity of technology platforms can be gauged by publications. In the last few years there has been a rapid rise in publications in the gene and cell therapy field. Publications on lentiviruses, which look like they are poised to potentially enter the market quite soon, numbered over 1900 in 2013 and over 1400 in 2014. At the same time there has been a decrease in the number of publications on adenoviruses, but a rise in publications on adeno-associated viruses. If the number of publications is an indication of maturity, then adeno-associated viruses are likely well on their way to becoming a more mature platform for numerous therapeutic opportunities.
More recently, there has also been a rapid rise of publications on gene editing approaches such as CRISPRs, TALENs and zinc fingers, showing that these technologies, although still quite young, are rapidly maturing. Academic publications also show a particularly rapid adoption of CRISPR/cas9 technology.
2. Clinical Trials
Another telling indicator of the maturity of gene therapy platforms is the number of clinical trials and how advanced they are. While there are many pre-clinical programs, there are also many clinical stage programs and a lot of them are in advanced stages of research. At the time the data for this chart was collected there were 68 Phase 2 programs and some that had moved into Phase 3 or registration.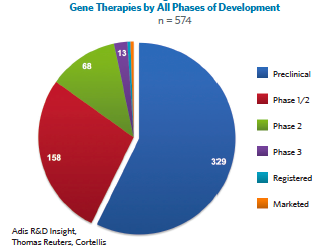 Many of these programs are for very rare disorders in which a substantial therapeutic effect is anticipated—which means they might get approved based on Phase 2 data—so the programs may be even closer to approval than this chart indicates. From a maturity level and from clinical trial analysis, it looks like later this year or early next we will likely see significant product advancement and real products on the market.
3. IPOs
We are now reaching historic levels of IPOs that haven't been paralleled since the biotech bubble back in the late 1990s, clearly indicating that, as far as investment goes, the public markets are now open for new technologies.
The combined regenerative medicine field, including cell, gene, and gene-modified cell therapies, generated $4.74B through partnering deals, acquisitions, and public and private investments from March 2013 to March 2014.
Currently there are close to 700 clinical trials underway, with the largest areas of focus in oncology, CNS disorders, and cardiovascular diseases. And, the clinical pipeline is maturing with over one-third of those trials in later stages (Phase 2 or Phase 3). The rate of growth is reflected in the public markets: 25% of the biotech IPOs in the second half of 2013 were regenerative medicine companies.
4. VC Financing
New gene editing technologies have also drawn significant VC financing. The more advanced programs that are based on the AAV and lenti/retrovirus technologies in late clinical stage programs have been able to do very large IPOs that haven't been seen in the biotech community for some time. This indicates that investors are confident that these companies are likely to be able to provide gene therapy products that will be commercialized in the very near future, providing significant return to investors.
5. Pharma Investment
Likewise, Pharma investment has also been quite robust in the gene and cell therapy arena. There have been some rollups of technologies, particularly among companies that have had distressed programs or that had a tough time making it through the dark years, but there's also been significant investment in the more mature viral vectors and gene editing technologies. Some of these deals have been acquisitions that are very focused on particular products or a therapeutic indication of interest such as Hemophilia A and B. Cardiovascular disease and inherited metabolic disorders have also been areas of interest. And, some have been broader based in order to gain access to technologies that can be applied toward their own internal targets or to advance their immune-oncology programs.
There are still hurdles to overcome, but it appears that the convergence of the advancement in science, technology, investments and the needs to fill product portfolios of large cap biopharma companies provides a rich environment for delivering breakthrough therapies to market. While the remaining issues are significant, the pioneers in the field of gene therapy and their collaborators are optimistic that steady progress will continue to be made providing solutions to barriers to commercialization in the very near future.
Request a Demo