5 Benefits of Online Collaboration
16 June, 2022
Over the last few years, the word "collaboration" has been thrown around more than ever before. Since the onset of the pandemic, companies all around the world had to deal with a barrage of obstacles. One of the most evident challenges was how to collaborate more efficiently in a remote or hybrid work environment.
Fortunately for most, online collaboration tools played a crucial role in recreating the office at home. Key market insights show that the global team collaboration software market size grew from USD 15.25 billion in 2020 to USD 17.15 billion in 2021. The market is expected to hit USD 40.79 billion by 2028.
The global impact of COVID 19 was both unprecedented and staggering with team- and task collaboration software solutions witnessing unexpectedly rapid growth. Document collaboration solutions in particular enjoyed a boost in interest since such tools enable stakeholders to collaborate in real-time on a contract no matter their physical location – rather than negotiating changes in face-to-face meetings.
Numerous studies show that organizations that adopted web-enabled collaboration tools reaped massive benefits.
From saving thousands of work hours to boosting productivity, let's have a look at some of the merits of using good collaboration tools.
Team vs. Task Collaboration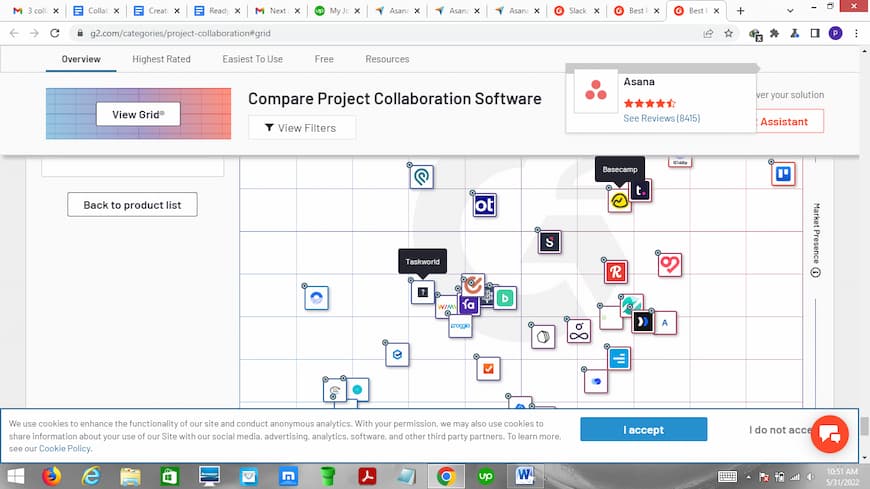 Comparison of Different Collaboration Solutions - Interactive Table Here
Before understanding the impact of online collaboration, we need to appreciate that there's a very clear distinction between team collaboration and task collaboration. Large-scale team productivity improvements can only be realized fully by people changing the way they work. And the larger the team, the more value there is in coordinating all of the collective resources to work in harmony on a project.
However, if your team is already working well, there's no need to overhaul your entire process. Instead, consider what repetitive tasks could be done more efficiently with better tools.
I'm talking about specific tools for improving group productivity on one task — things like mood boards for collaborating on a brand's look and feel; website wireframing and mockup tools so you can plan the content and flow through a website before coding; and document collaboration tools that let users edit the same document in the cloud and track all changes. You will meet much less resistance when you encourage the use of task-specific tools because they're generally quick and easy to learn and adopt.
Getting teams to manage all their work in the cloud and collaborate on different tasks together typically means adopting project management applications such as Slack, SmartSheet, Asana and the like. But for all their potential, these types of solutions are incredibly disruptive to embrace. They take some time to adopt and require significant organizational and behavioral changes.
It's safe to say that these applications are not to be taken lightly if you want them to stick. There are literally millions of users who never went all-in on these platforms and are now stuck with a productivity millstone around their neck as opposed to the intuitive, productivity-enhancing, collaborative experience they were hoping for.
In contrast, there are greater efficiencies to be made by collaborating on specific tasks that are particularly slow, tedious or error-prone when done the old way, which just got harder with everyone going remote. Such applications get more bang for your buck and can be adopted more easily by fewer people until proven to be beneficial. Then its use can easily be replicated in other departments or other small teams to achieve consistent success.
Examples of Task Collaboration Tools
Depending on the task at hand, your team could benefit greatly from using a particular task collaboration tool.
Website Design — There's a wide range of tools such as Zeppelin for prototyping a webpage or mood board. This type of app allows users to share feedback directly on the mockup, allowing you to shape the direction of your design early on before any HTML is written. This is what we refer to as standalone collaboration that is very task-oriented towards website design.
Visual Feedback — Here's another common challenge giving someone feedback on a visual element, graphic, web page, or even a document. You can easily waste a ton of time trying to find the words to describe what you want… rather than grabbing a screenshot and talking and pointing and annotating. That's the problem that tools like Loom solve quite elegantly, speeding up review cycles and saving real minutes.
Digital Whiteboards and Conferencing Tools — Here, you have team collaboration tools such as Zoom. These mimic meetings (hence the whiteboard) and allow users to collaborate while using any other type of collaboration software. The job of these collaboration tools is to bring everyone's voice, eyes and ears into the same room — mimicking a conference room.
Document Collaboration and File Sharing Tools — Cloud computing has made it possible for businesses to run powerful tools without needing to buy onsite servers. Advanced document collaboration tools such as CollabLoop let users edit, share and co-author highly sensitive Word documents (requiring legal and compliance input, or highly proprietary information from experts) in real time. All the while, everything is securely backed up and stored in the cloud and everything from version control to preserving the audit trail of changes and comments is all taken care of for you.
Similarly, general-purpose tools like Google Docs and Dropbox Paper enable the same real-time co-authoring functionality, but with much fewer security controls and no audit trail for change and comment history.
Instant Messaging Tools — Even when not in the same room, IM tools let you and your team communicate seamlessly. Some instant messaging apps allow the creation of different "channels" or "conversations" for different departments with directories for employees to find and message each other directly.
Project Management Tools – In collaborative work, these types of tools act as mission control. They help managers assign tasks, create an information-sharing hub, track progress and keep tabs on users to make sure everyone has access to the resources they need.
Basically, we all have a use for a handful of different single-function task-oriented collaboration tools and platforms. However, not all of us need the tedious chore of changing the way we work to revolve around Team collaboration platforms.
Team Collaboration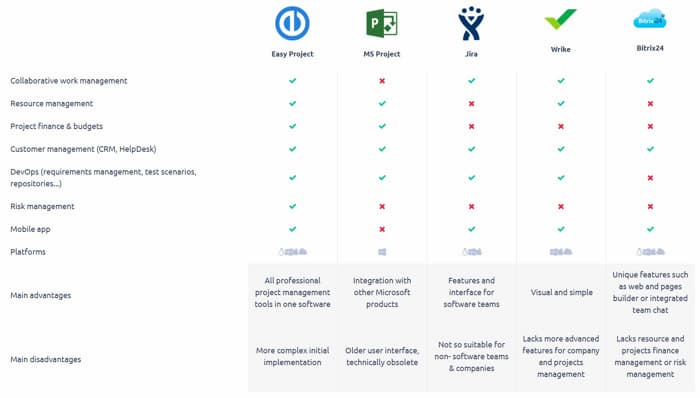 Project Management Platforms
While they have many features in common, different project management platforms are more aligned with different business functions. e.g. Jira is widely used in engineering projects and rarely in marketing. Truth is, they are all converging on the same general feature because they all ultimately need to accomplish the same thing.
Project Management dashboards are hands down one of the most popular and essential features of Team collaboration platforms. A web-enabled workspace ensures all communications with external parties and project materials are all kept in the same place.
Task collaboration is also sped up a bit since users don't need to arrange physical meetings. All they have to do is upload the document and notify reviewers so they can make any necessary changes. Project managers can then empower collaborators and organize the workflow so that everyone carries out their respective tasks.
On one side, you've got general-purpose collaboration environments like Slack and Google Drive that are good for teamwork and management. On the flip side, there are tools like CollabLoop, Zoom and Adobe Creative Cloud which are made with a particular collaborative mission in mind. These task collaboration tools come highly recommended for when you just need to work together on a specific task as opposed to improving how everyone collectively works together on projects, by adopting a general-purpose team collaborative platform.
That said, when you combine task lists and team calendars, managing large projects with users across numerous locations, perhaps even in different organizations, becomes far quicker and less expensive. But remember, a project is only as good as the managerial function and the tools they're using. So don't get too tied up with complex team collaboration software that you overlook the simplicity and effectiveness of task-specific collaboration tools.
The Positive Impacts Of Online Collaboration Tools
1. Increased Productivity
Whether traveling or working from home, online collaboration platforms such as Slack, Asana, and others give your team members an instant messaging framework and the project management tools they need to work with others and keep projects moving forward, whether in real-time or asynchronously. Not only does this keep everyone on the same page and reduce inefficient updates and back and forth in email — it also empowers people to be most productive at times when it best suits them.
On top of that, your team can automate certain tasks and streamline processes, freeing up their time to focus on the more vital activities. According to a study conducted by Deloitte, collaborative tools improve productivity levels by as much as 25%. That's because colleagues can now devote more time to worthwhile tasks and spend less on unproductive tasks like traveling, sitting in meetings and emailing status updates. A lot of status management gets taken care of by the system automatically, as people complete the tasks assigned to them.
However, the added productivity just doesn't come from thin air. It requires a lot of dedication from the team leader ensuring that everyone is clear on their roles and responsibilities. And it requires a change in the way teams work, which never comes as easy as you imagine it should.
Team diaries and task lists come in handy for assigning work, checking your overall progress, and setting ground rules; especially for when team members are expected to be online.
2. Time and Resource Savings
Did you know that the average worker spends 28% of their time reading/answering emails and 19% on research and discovery? That's almost half a week spent on mundane, administrative-type tasks. What a waste! By the end of the year, you're looking at thousands of wasted hours that could have been channeled towards income-generating activities.
In addition to saving money by saving time, online collaboration actually cuts costs all across the board. You've got slashed travel costs since your team members don't have to meet up physically. A lot of companies are now starting to hire a completely remote workforce so that they don't even need to have a physical location.
Team collaboration tools allow lots of people to log into a single platform and work together in real time on the same project. Other desirable attributes include task assignment, integration with other team collaborative software, project templates, external notifications, office chat, video conferencing, data security and audit trails.
However, you'll need to identify which features will suit your needs most. There's no point going completely overboard on a highly complex tool with dozens of features when all you really needed was a simple way to redline contracts. It's always important to assess the scope of what you need to get the most bang for your buck. It's all about team vs task. Is it more efficient to change the way you handle certain tasks as opposed to reworking your entire team?
3. Security & Accountability
If there's one thing that people want in an online collaboration platform, it is high levels of security. These tools typically function in a cloud-based workspace, which means that securing information is crucial on all levels.
Unfortunately, this is also an area where there's a great deal of differentiation in security features and capabilities even between vendors within the same function. Although both team and task collaboration has made it easier to work from home, due to a lack of expertise and attention to security matters, they have also created new security risks. These include dropping malicious documents, cyber fraud, misconduct, and leaking of personal or sensitive data.
That's why some of the more trustworthy web-enabled collaborative solutions have an array of safeguards in place to protect user data. CollabLoop, for instance, is built to securely exchange highly sensitive information both inside and outside the organization. In addition to being ISO 27001 and SSAE 16 Type II Certified, their network is constantly protected by virus scanning, intrusion detection systems and firewall rules that prevent unauthorized access.
So whether you need an all-inclusive workspace like Teams or a more specific platform like CollabLoop to co-author a document, your selected software vendor should take security seriously, from identity management to audit trails and compliance. If you're in a highly regulated industry like financial services, healthcare or life sciences, compliance and security matter a great deal.
4. Improved Communications
Remote or otherwise, your workspace can become more connected than ever with a solid online collaboration solution. This is incredibly useful, especially for team members and colleagues who aren't always based in the same office, city, or even country — a phenomenon that is becoming increasingly common in today's hybrid work environment.
It doesn't matter if your team is still in the same office; online collaboration solutions definitely boost their communication skills. That's because a good tool minimizes the chance of anyone missing out on updates or important emails while ensuring everyone working together on the project remains on the same page.
5. Increased Employee Satisfaction
All the benefits listed above combine to provide what is perhaps the most important benefit of online collaboration — a boost in employee morale. In addition to all the reduced travel and communication costs, employees are thrilled by the freedom to work when and where they want.
If everyone's work is received and acknowledged as opposed to being lost in an email, they will feel more appreciated and motivated to work. Furthermore, we all know that great collaboration tends to generate innovation and teaches team members new skills. Online collaboration solutions that enable sharing of knowledge and better communication make it easier to inspire others.
Final Words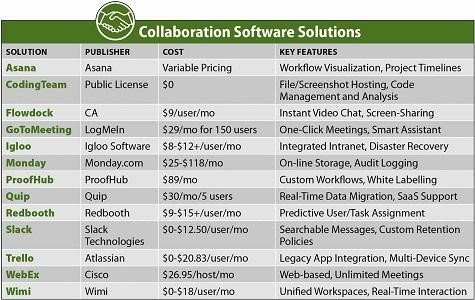 Key Features of Different Collaboration Software Solutions
From all the pointers mentioned above, it's clear as day how the spectrum of cloud collaboration solutions for teams and tasks offers a lot of advantages for your business.
As mentioned earlier, you'll need to identify which features your organization needs most. There's no point going completely overboard on a highly complex tool with dozens of features when all you really need is a way to securely co-author documents.
If you're looking for a well-rounded collaboration tool for document redlining and co-authoring, try CollabLoop. CollabLoop lets you hammer out legal agreements quickly and keep regulatory compliance documents up-to-date. CollabLoop literally keeps everyone on the same page and never loses track of any changes or comments.
You can look forward to a secure, Word-compatible editor in the cloud that will let you share, redline, lock, export or publish your documents from a single login. What's more, you get full ShareVault VDR integration so you can also make use of a bank-grade data room with clickwrap support.
Book a live demo with our team to learn more about what CollabLoop can help you accomplish.