ShareVault
Partners and Alliances
ShareVault is proud to have formed business partnerships or alliances with the following organizations:
Biotechnology Innovation Organization
The Biotechnology Innovation Organization (BIO) is the international trade association for the biotechnology industry. BIO represents more than 1,100 biotechnology companies, academic institutions, state biotechnology centers and related organizations across the United States and in more than 30 other nations. BIO members are involved in the research and development of innovative healthcare, agricultural, industrial and environmental biotechnology products. BIO also produces the BIO International Convention, the worldís largest gathering of the biotechnology industry, along with industry-leading investor and partnering meetings held around the world. BIO produces BIOtechNOW, an online portal and monthly newsletter chronicling innovations transforming our world.
BIO is also focused on critical business development aspects of the biotech industry. BIO produces industry-leading investor and partnering conferences held around the world. These business development conferences help expose biotech companies to investors as well as to such organizations as pharmaceutical and other biotech companies to forge capital and partnering opportunities. In addition to capital formation, BIO helps companies save money on the cost of goods and services. The BIO Business Solutions® cost-savings program develops alliances with industry-leading suppliers and service providers. Members of BIO and participating state and regional biotech associations can obtain preferential pricing and other benefits through these alliances developed by BIO. Among the BIO Business Solutions® portfolio of cost-savings programs is a program with ShareVault, which offers member companies discounts on most ShareVault products. ShareVault was selected by BIO as the exclusive preferred VDR provider best able to meet the needs of member companies after a comprehensive due diligence process and membership input of the VDR market.
Pullan Consulting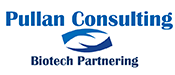 Linda Pullan (www.PullanConsulting.com) can help with any aspect of getting a partnering deal done for your drug candidate or drug discovery technology:
making contacts (I have a great network for BD in biotech and pharma)
defining partnering strategy
designing presentations, teasers and business plans
representing you at partnering forums
preliminary valuation, analyzing markets & competition
deal models
negotiating in-licensing and out-licensing
advise on any aspect of partnering.
With a simple hourly fee, you can get help for any tasks of biotech partnering.
WaveEdge Capital

WaveEdge Capital and its licensed broker dealer, Mavericks Capital Securities, specializes in M&A, capital raises and strategic partnerships across the healthcare sector. We help construct and facilitate innovative and lucrative solutions for our clients. Our practices include therapeutics, devices, diagnostics, services and digital health.
WaveEdge Capital helps its clients determine the optimal path and outcome for the company. They help clients develop a unique value proposition for buyers, partners and investors and educate the market to heighten interest and widen the reach beyond the obvious and traditional. They pressure-test assumptions and bring deep financial, valuation, structuring and negotiating skills to bear, all to increase the value of the client's transaction.
Speaking the language of the target audience takes more than investment banking skills. WaveEdge Capital's unique, systematic approach is differentiated by a diverse, senior team with deep medical and patient perspectives, core scientific knowledge, proprietary analytics, and three decades of investment banking experience in healthcare and life science sectors.
StratusG Consulting
StratusG is a business and technology consulting firm with over 15 years of experience. We work with business executives and other decision makers in the lifescience, aerospace, and technology verticals to deliver on projects of all scopes and sizes.
StratusG consultants have guided many businesses to success with strategy developments, systems implementations, regulatory compliance, engineering efforts, and project rescues.
ShareVault Partner Programs