Document Control
<![endif]-->
ShareVault provides powerful, easy-to-use tools to easily keep control of your sensitive documents with enterprise-grade security, even on computers and devices that are outside of the control of your IT department. ShareVault document control technology is applied uniformly, regardless of whether documents are viewed on Windows, Mac, iOS or Android.
Information Rights Management (IRM)¹
Protected documents are AES-256 bit encrypted and can only be opened with an active ShareVault connection, so documents can be remotely "shredded". In other words, a user's permission to open a document can be revoked retroactively, even for files already downloaded. Competing systems provide IRM capabilities based on clunky plug-ins that frustrate users and slow down the document review process, but ShareVault's plug-in free technology is fast and simple for your users.
ShareVault's powerful IRM technology allows you to retain persistent control over documents shared with third parties, because an NDA is just not good enough anymore.
Granular Access Controls
ShareVault provides powerful tools to rapidly configure document permissioning at the user or group level, as well as at the document or tag level.
Document Security Policies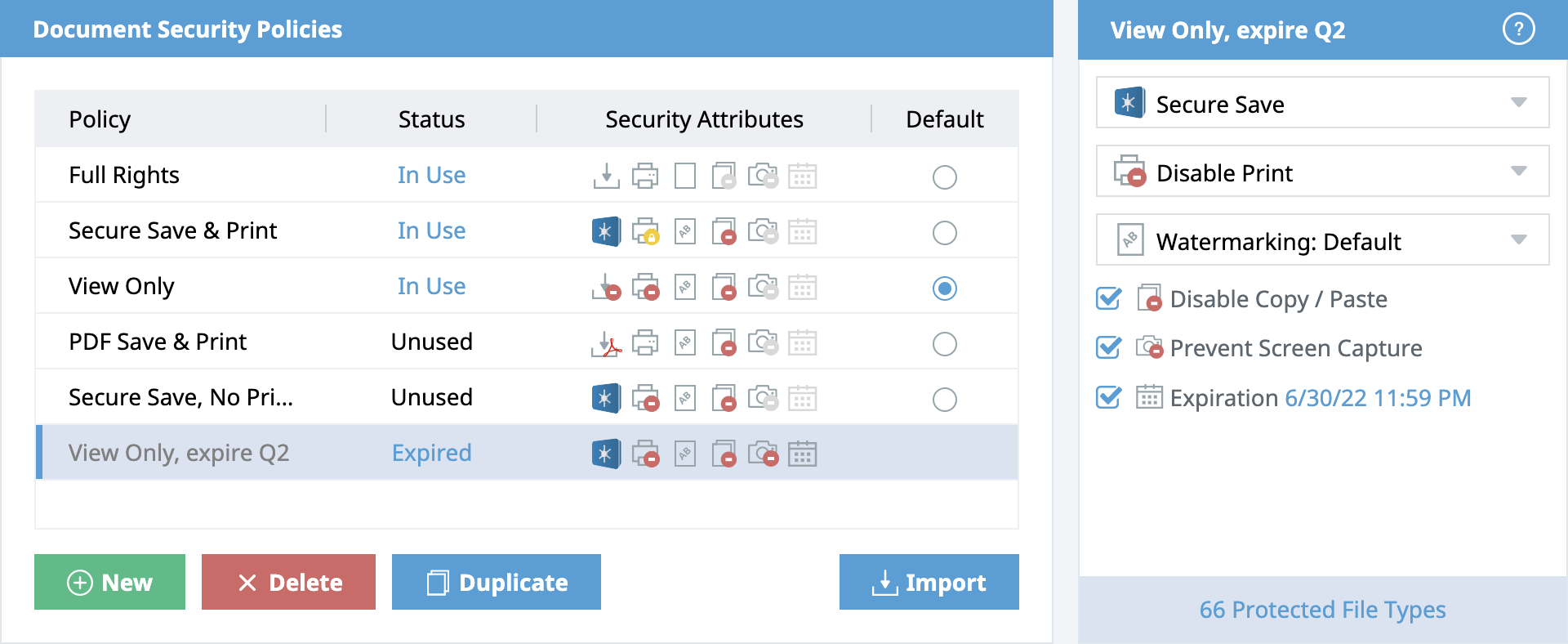 ShareVault's fully configurable document security policies allow you to define the appropriate levels of document protection. For each policy, you can specify whether or not users have the right to print, save, copy/paste text, take screenshots or access the original document, and whether a watermark should be applied. In addition, you can specify an expiration date/time. Much more flexible than the limited view/print/save levels provided by a typical virtual data room, ShareVault policies gives you the ability to easily control exactly what rights each user has when accessing your content, and for how long. Because it's so easy to change, you can modify the rights as your project progresses.
Secure Printing¹
Even if a user is allowed to print, you can prevent the user from printing to PDF¹. Printing to PDF is the equivalent of being able to save a digital copy of the file, which is a major vulnerability of competing solutions.
Screenshot Prevention¹
Only ShareVault can be configured to prevent screen capture on Windows, Mac, iOS devices and Android devices. The screenshot blocking is extremely robust and blocks not only third party screen capture software (such as SnagIt), but also screen sharing software (such as GotoMeeting), so your confidential content is displayed only to the intended users.
Dynamic Watermarking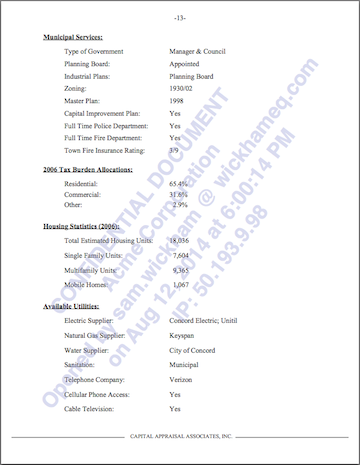 Based on the security policy that you've defined, ShareVault automatically applies customized, dynamic watermarks to each page of protected documents. Watermarks are clearly visible, applied diagonally across the page, yet do not interfere with the readability of the underlying text. The watermark text is customizable, and you can embed the following dynamic information:
User's email address
User's IP address
Current date
Current time
Watermarking provides a clear reminder to the reader that the content is confidential, and since the user identity can be included in the watermark, it allows for a simple but effective deterrent against distribution of the printed documents (if you allow for printing) to unauthorized readers. And since documents protected with PDFtrak cannot be printed to PDF, they remain under your control even if you allow for printing.
Expiration Date / Time
The policy can include an expiration date and time, after which the user will no longer be able to access documents to which the policy has been assigned. This allows you to automatically enforce deadlines associated with your business processes. Using this feature in combination with the Information Rights Management (IRM) feature, even documents that have already been downloaded cannot be opened after expiration.
---
¹Not included with ShareVault Express subscriptions