Life Sciences Association
Endorsements
ShareVault is proud to be the preferred Virtual Data Room (VDR) provider for the Biotechnology Innovation Organization (BIO), the leading global trade association for the biotechnology industry.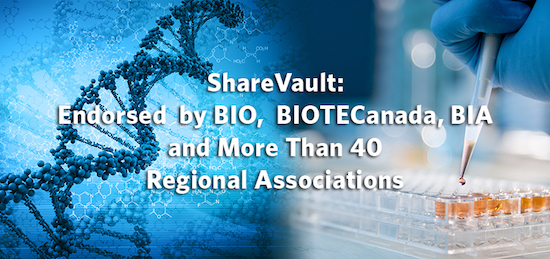 In addition, more than 40 other life science industry associations have also included ShareVault in their member savings programs. We sincerely appreciate the endorsement of these leading organizations and value our continuing partnership. Key factors driving their decisions include:
Reputation for ease of use, industry-leading features, and outstanding customer service
PC and Mac compatibility
Detailed reporting capabilities, including user viewing time by document and by page
Ability to retract access to downloaded documents
Preservation of inter-document links in regulatory submissions, such as INDs and NDAs
Varied pricing programs, including month-to-month subscriptions and our Deep Freeze and EverReady programs
Engagement in the life sciences industry through educational webinars and white papers
Understanding of the specific needs, activities, processes, and industry terminology
For more details about member benefits, click the logo of your association below.
---
See Association member testimonials below.
---
Association Member Testimonials
"As someone who has accessed ShareVault for the purposes of buy-side due diligence, I found the layout and interface to be intuitive and easy to access and use. It took a very short period of time to get up to speed with the ShareVault system. I particularly liked having the overall contents page always accessible down the side of the page, even when reviewing a document, which made navigation quick and easy. I also found the search function to be accurate and quick."
"I initially used ShareVault to organize and securely share confidential documents with external parties. ShareVault's user-friendly interface, end-to-end security and document controls gave us confidence that documents were secure in any situation. I also expanded my use of ShareVault as a central corporate repository to organize pre-clinical and clinical trial information which I frequently needed to access. Having one central repository supporting multiple use cases eliminated the need to learn and log in to other company systems saving time in my busy day."
"EndoChoice used Sharevault as its primary data room for investor due diligence in private financings and for underwriter due diligence in preparation for its initial public offering in June 2015.
We found Sharevault to be a very intuitive and user-friendly platform both for the administrators at EndoChoice who were uploading and organizing due diligence materials as well as for potential investors and underwriters who needed to search for, review and download relevant documents. This streamlined the process which is always a positive during due diligence.
We found ShareVault's customer service to be extremely helpful and responsive. Also, Sharevault is a very cost-effective solution compared to other data rooms with similar functionality."
"At Armune BioScience we store all of our corporate documents in a ShareVault. This assures us that our corporate data is secure while at the same time being easily accessible to potential investors interested in doing due diligence. And, since all corporate data is stored in an organized central repository, it is also readily accessible to Armune employees, saving monumental time when tracking down needed information.
Uploading documents to ShareVault is easy and fast and the organizational structure is straightforward and dynamic to our needs. Being able to designate who can access specific documents and then knowing what is being reviewed is also important. It is also very easy to use search terms to find specific documents, which also saves time.
The ShareVault platform is very flexible and affordable and much more user friendly than other services we have either used or reviewed."
"In the short time that we have been ShareVault clients, the return on our investment has already paid dividends. ShareVault provides a clean and efficient user experience, making management of our data rooms a breeze. Communicating with key internal and external stakeholders is now quick and efficient, allowing us to share important information in a secure environment within minutes of uploading. The ShareVault team is always there for us when we need them; professional, knowledgeable, and friendly. An invaluable business tool and a great resource, essential for supporting our Company's growth.
"As a business development professional in a deal mode, the last thing needed is another issue to manage. During a recent deal we found ShareVault to be a tremendous asset. Our users were impressed by how intuitive and easy to use the platform was, as well as by how the ShareVault staff was available when anyone, from either side, had data room questions or needs. This level of customer service (especially on evenings and weekends) definitely enhanced productivity, effectiveness and, most importantly, reduced frustration and obstacles when there was much underway. With ShareVault, it was like adding another person to the team to help facilitate the deal and make the process easier for all involved. ShareVault is a class organization. I look forward to the next deal with ShareVault as part of our team."
"When managing complicated medical research and development programs, as well as commercializing the resultant technologies, it becomes imperative to align with strategic partners. During these collaborations RevMedx relies on ShareVault as a corporate dataroom for exchanging sensitive information with collaborators and suppliers.
With ShareVault it's easy to organize and securely share critical business information with our partners ensuring that they have the right access to the right information when they need it. Users in our company give ShareVault a big thumbs up because of its ease of use and the peace of mind it affords us knowing that our documents are secure.
ShareVault's advanced security features, the ease of controlling access, and the ability to monitor user activity are clear advantages over email and general file sharing services."
"At Intensity Therapeutics we use ShareVault to control the dissemination of our confidential information to potential investors and pharmaceutical companies conducting due diligence on our company. The platform is reliable and easy to set up. ShareVault provides our potential partners and investors with an organized repository of the information they need to make informed decisions. ShareVault's advanced reporting tools allow us to see which files have been viewed, when and by whom, providing us with an understanding of the areas that are of interest to various groups. Using ShareVault has allowed us to share our sensitive information professionally."
"Deals are complicated enough without making the due diligence process more complicated than it needs to be. I've used a number of data rooms over the years on both the buy- and sell-side of transactions, and Sharevault is the most intuitive and functional of any of them. Sharevault allows for effective and efficient data access while providing full control, visibility, and security. Sharevault was so useful in our transactions that we also began using it for internal document storage and sharing."